Shrimp broccoli & rice. Toss the shrimp back into the pan and mix until everything is well incorporated and the shrimp is fully. After tasting fettuccine Alfredo at a restaurant, I tried to duplicate the recipe at home. You can't imagine how pleased I was when I came up with this delicious version.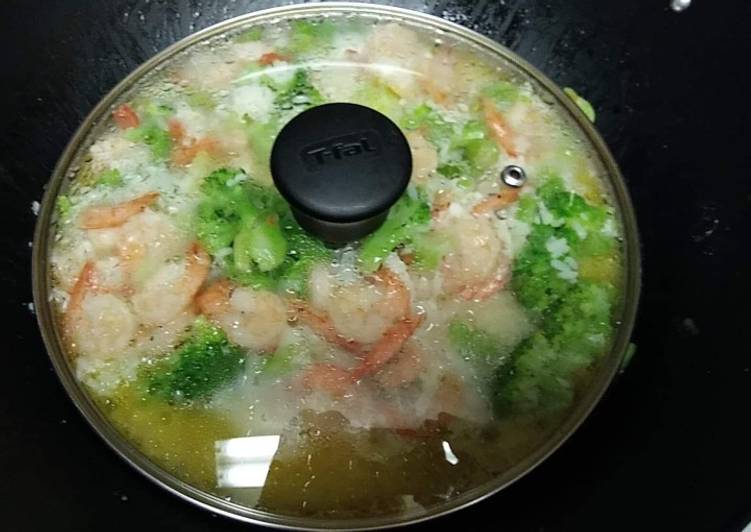 Get dinner on the table quickly tonight by simply roasting shrimp and broccoli together for a quick, flavorful meal.. SHRIMP BROCCOLI is a healthy, quick, and easy to prepare vegetable dish. Shrimp and broccoli is sauteed in a savory sauce that consists of garlic, onion. This Perfect Shrimp broccoli & rice using 6 easy ingredients and 8 easy steps. Follow these simple steps to achieve that.
Ingredients of Shrimp broccoli & rice
Prepare 1 package of medium size frozen shrimp.
You need 1 package of frozen broccoli florets.
It's of and 1 package of frozen white rice.
You need of Lemon pepper.
Prepare of Garlic pepper.
Prepare 5 tbsp of Butter about.
If you love eating shrimp, you will want to try this recipe. We'd like to share with you an extremely easy and highly satisfying dish – broccoli and shrimp, sautéed in butter. We could call this 'Urban Shrimp & Broccoli'…I'm in NYC for the week & just shot this from the balcony YAY for Eating Clean while on Vacation! I agree as well, it needs salt, other that that excellent easy receipe, I also Shrimp and Broccoli.
Shrimp broccoli & rice instructions
If you have a wok pan heat till hot when right temp add 5 tbsp of butter..
Open package of shrimp and dump in wok.let shrimp start sauteing until almost cooked..
Then dump in broccoli florets..
And dump in package or frozen white rice..
At this time season with lemon pepper and your garlic pepper..
Sautee for about 4 min medium high then turn down het and cover with lid and let steam until rice and broccoli are perfect constancy..
Wich you don't want broccoli over cooked but a slight bite to it still and rice is just right.
Turn off heat and eat.so simple😆.
I made this for my girlfriend last night. I used four cloves of garlic and a pinch. By Judy Kim and Megan Shepherd. I much prefer dinners that bake in the oven. This is very loosely based on a roasted shrimp and broccoli recipe by Melissa Clark, that I came across recently.