Beer and garlic mussels. Add the beer and mussels to the pan and reduce the heat to medium and cover. Turn the heat off and add the butter and parsley and stir well. You just want to make sure they all open well.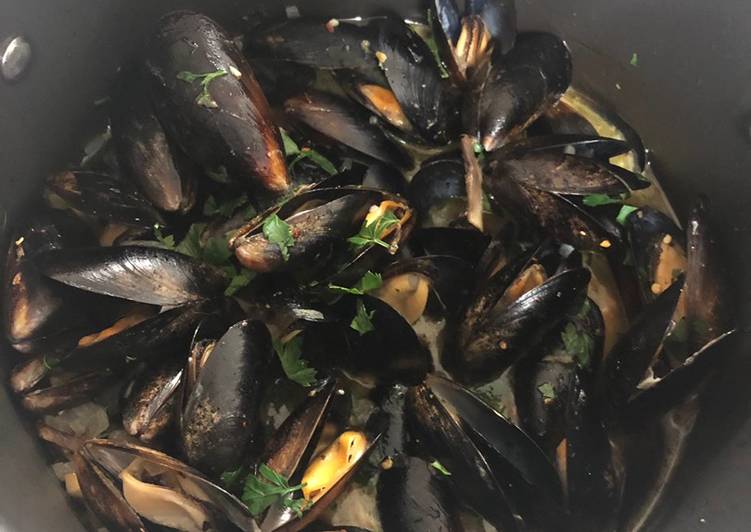 The mussels will pick up the subtle flavors of beer, garlic, and spices by steaming and soaking in the beer broth. In a soup pot with a tight-fitting cover, heat olive oil, then add thyme, garlic, shallots and a pinch of salt and pepper. Pour in ale and bring to a simmer. You can have Beer and garlic mussels using 8 simple ingredients and 3 easy steps. This is guide how achieve this tasty food.
Ingredients of Beer and garlic mussels
Prepare of Fresh or frozen mussels.
You need of Onions.
You need of Garlic.
It's of Mushrooms.
You need of Beer.
Prepare of Parsley.
You need of Lime.
It's of (Prosciutto recommended).
Beer Steamed Mussels – DELICIOUS mussels cooked with beer and garlic herb. Add the butter, parsley, salt, and mussels and heat until the butter melts. Steaming mussels in beer is just as simple as steaming in water or broth, but the flavor is unparalleled. Hot sauce, garlic, and red pepper flakes lend bite to the steaming liquid, while a sprinkle of fresh parsley cools it down.
Beer and garlic mussels instructions
On a pot warm some olive oil. Throw diced onions garlic. Then mushrooms, (chopped prosciutto if you have).
Add mussels heat for a while. Add lime. Add beer. Let it boil for a little cover. Once the mussels are ipen add parsley and serve.
Goes well with sweet potato fries on airfryer and truffle oil and parmesan.
Make sure all your guests have a generous slice of bread. Mussels in beer with onion, garlic and parsley recipe by Nathan Outlaw – Wash the mussels and pull away the hairy beard attached to one end of the shell. Discard any that are open and refuse to close when sharply tapped, as they will be dead, and any with damaged shells. White wine, garlic, and lemon combine to create a fragrant flavor in this classic steamed mussels recipe. Serve with grilled bread for a perfect way to savor the broth.