Sake glazed Halibut over rice. Halibut is brushed with a rice wine and miso glaze then broiled until golden in this quick and easy recipe for an Asian-inspired main dish. Cook's Note: Use sake instead of rice wine if desired. For the miso halibut, mix the miso paste, sugar, soy sauce, sake and mirin together in a large glass bowl until well combined.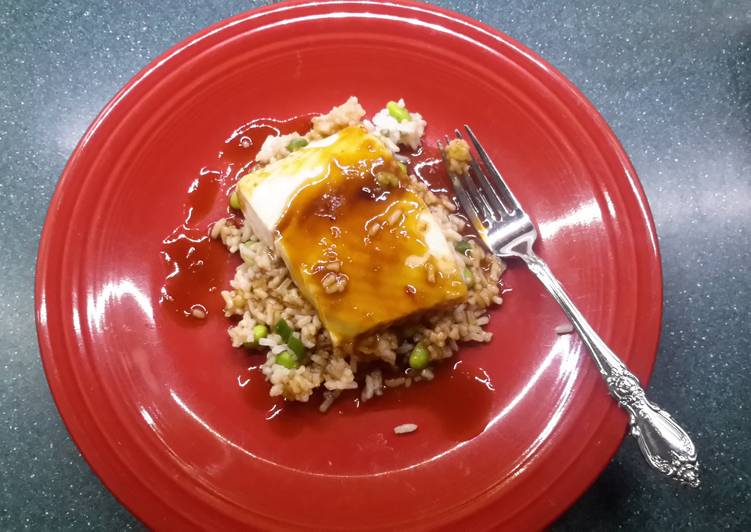 You can substitute halibut fillet, if desired. Sake is a dry rice wine generally available where wines are sold. Junmai, a special designation for sake, denotes sake brewed from rice that has been milled. You can have Sake glazed Halibut over rice using 7 simple ingredients and 5 simple steps. Learn how to cook delicious meal.
Ingredients of Sake glazed Halibut over rice
Prepare 1 tsp of fresh ginger root.
Prepare 1 cup of Sake.
Prepare 1/2 cup of teriyaki baste.
Prepare 2 of Halibut.
It's 1 of green onion.
It's 1 cup of hot cooked white rice.
It's 1/2 cup of thawed edamame beans.
The Best Halibut Fillets Rice Recipes on Yummly Garlic Parmesan Baked Halibut, Baked Halibut With Lemon Butter Sauce, Roasted Halibut With Microgreen Cashew Puree. Learn how to make Ginger-glazed halibut & see the Smartpoints value of this great recipe. This halibut is perfect with rice and a steamed vegetable like sugar snap pears or broccoli.
Sake glazed Halibut over rice instructions
Prepare rice.
Preheat broiler on high. Combine ginger, sake and teriyaki baste in a small sauce pan. Bring to a simmer over medium high heat for 7-9 minutes or until reduced by half. Set aside..
Place halibut in stainless pan, brush with 2 tbsp or the glaze mixture. Broil 8-10 minutes..
Slice onion. Add onion edamame beans and 1/4 cup glaze to the rice and microwave for 2.5 minutes..
Place rice mixture on a plate, top with halibut and drizzle with glaze and serve..
In a medium saucepan, bring the mirin and sake to a simmer. Be the first to review this recipe. I've adapted this from Elizabeth Andoh's wonderful book Washuko. I love the flavors in Japanese food, and how simple most of the recipes are. This one is no exception; beautiful fresh fish, miso, mirin and sake.