Curry Tuna Fried Rice. I think you're going to like it. Easy kimchi tuna fried rice recipe! Koreans usually cook fried rice when their fridge is nearly empty or when they need to get rid of leftover vegetables.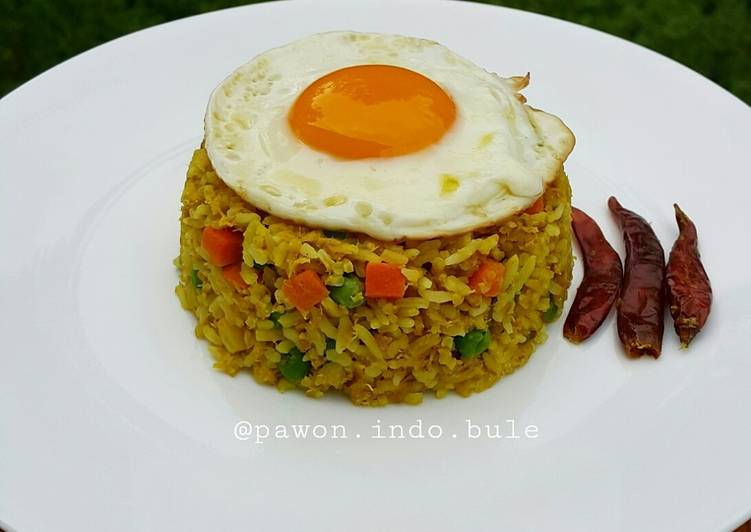 I'm also always looking for ways to get my boys to eat more fish. This tuna version ticks both boxes! And it's a great pantry meal to have as a backup. You can cook Curry Tuna Fried Rice using 14 easy ingredients and 7 easy steps. This is guide how achieve yummy food.
Ingredients of Curry Tuna Fried Rice
Prepare 350 grams of cooked rice.
Prepare 2 of eggs lightly beaten.
You need 3 of shallot, chopped.
You need 2 of garlic, minced.
Prepare 1 tsp of ginger powder.
It's 1/2 tsp of turmeric powder.
You need 2 tsp of curry powder.
You need 3 sprigs of curry leaves discard stalks.
You need 4 of dried chillies, chopped (optional).
It's 1 cup of frozen mix vegetables, thawed.
You need 1 can of (5oz/140 gr) tuna, drained.
Prepare 1/2 tsp of salt.
Prepare to taste of ground pepper.
It's 2-3 of sunny side up or over easy eggs.
Just keep some precooked rice in the freezer like I do. With rice Fried rice with curry tuna wrapped eggs. On wooden table Tuna Green Curry Fried Rice Wrapped in Egg Sheet. Curry fried rice is a flavour variation of fried rice and it is very popular fried rice flavour in Japan.
Curry Tuna Fried Rice step by step
Add beaten egg yolks to cooked rice and mix until well coated. Put aside.
Heat up a wok or frying pan and add in 2 tbsp cooking oil..
Add in chopped shallot, minced garlic, ginger, turmeric, dried chillies, curry powder and curry leaves, sauté over medium heat until softened and fragrant..
Add in mix vegetables and sauté for another 30 seconds..
Add in tuna, cook for 1 minute. Add the rice.Stir-fry the rice and loosen up any clumps. Flatten the rice with the back of the spatula so that they are in contact with the base of the wok..
Add in salt and pepper, mix well. Taste and adjust with more seasoning if needed..
Transfer the rice to serving plates and top each with an egg..
We always have rice left over and fried rice is better made from left over rice in my opinion. My mom used to make this often for Saturday lunch. Add the curry powder, salt and mix well. Add the tomato, chili, onion, sugar and lemon juice. Keep stirring the mix until the onions soften and the mix is well cooked.